View Advertiser Index


Fall 2000

As the dust finally sets on the 2000 season, what's a race fanatic to do? You can only re-enact the final laps of your favorite race of the year so many times, before your son has had enough and demands his hot wheels back. 2000 has left a lot of unanswered questions, that will need to be solved, before the green flag will drop in 2001. Was this the last year of racing at Cornhusker Raceway Park? Does Eagle Raceway drop there NASCAR Sanction? Did Greenwood Speedway get sold? Where will the NSCA find a home? Does the Kelly family build a new Sunset Speedway? Those and many other questions will need to be answered, and why doesn't my son ever let me play with his Dale Earnhardt car?

---
Earnest Hemingway once stated "Auto Racing, Bullfighting and Mountain Climbing are the only real sports... all the others are just games.

---
At this years Knoxville Nationals, the winner of the 50/50 ticket drawing, walked away with over $13,000.

---
Eddie Rickenbacker, many American's know him better as the famous pilot who shot down 26 German planes, in World War 1, but Rickenbacker also was a racer and made his first appearance in Des Moines, IA during the 1914 State Fair. Many racers are superstitious to a degree, but Rickenbacker's were among the most unusual. He had a lucky cat that rode in a box inside his race car. Can anyone imagine the Humane Society allowing that to happen today?! The cat ran away before a race in Sioux City, leaving Rickenbacker in the lurch. Luckily, he remembered his mother's suggestion, to tie a bat's heart to his middle finger with a red thread. He won the race!!

---
The five top finishing drivers at this years Nebraska Cup represented five different states. Nebraska, Kansas, South Dakota, Iowa and Missouri.

---
Past champions of the Lawrence Ideus Memorial:

1990 - Ray Lipsey
1991 - Ray Lipsey
1992 - Rodney Droud
1993 - John Gerloff
1994 - Danny Young
1995 - John Gerloff
1996 - Bruce Divis
1997 - Don Droud Jr.
1998 - Bruce Divis
1999 - Ray Lee Goodwin Jr.

---
Cornhusker Raceway Park 2000 Points Champions:

Jr. Sprints - Jack Dover
B- Class - Pat Brubaker
Singles - Derick Crank
Multi Class - Ken Klabunde
A-Class - Gary Fletcher

---
At this years Boone Nationals, there were a record number of Modified's taking to the track on opening night (393). That is 58 more than the record established last year. Coming out on top at weeks end was Kevin Stoa from Austin, MN. (Nebraskan's making the big show: James Kleinheskel, Ronnie Wallace and Johnny Saathoff)

---
In 1957 at Sunset Speedway, Glenn Robey won the first two feature races and Bob Parker ended the season as the first ever points champion.

---
Thunder Lake Speedway 2000 Point Champions

Thunder Stocks - Doug Adamy, Columbus, NE
Modified - Todd Sanford, Greenwood, NE
IMCA Hobby Stock - Brian Woolsey, Rising City, NE

---
In 1973 Joe Wade won the 50 lap IMCA Stock Car race, held on the 1/2 mile dirt oval at Nebraska State Fair.

---
Bob Mays former Midwest Speedway photographer, is putting together a book, covering 3 decades of Supermodified Racing, at various Midwestern tracks.

---
Thayer County Speedway 2000 Point Champions

Stock Car - Robby Marsh
IMCA Modifieds - Greg Metz

---
In 1953 at Lincoln County Raceway, located at the North Platte Fairgrounds was the site of the first and only NASCAR Grand National Race, ever held in the State of Nebraska.

---
I-80 Speedway 2000 point champions:

Pro-Ams - Rick Negrete
Hobby Stock - Joe Feyen
Late Model - Jim Jorgensen
Modified - Mike Lineberry

---
Ronnie Wallace held off Jeremy Mills on Oct 7th, to win the IMCA Modified portion of Octoberfest, at Beatrice Speedway. Dave Murray, Kerry Davis, Mike Heideman and Marvin Fuller gave chase. Jeff Anderson topped the IMCA stock car action, besting Dave Baugh. Bob Zoubek finished ahead of Tim Vandergrift to win the Pro Am feature, while Brian Langdale topped James Griffith in the hobby stock division. Ronda Mewes outran Derek Fralin to win the Factoy Stock feature.

---
Calling it one of the biggest heartbreaks in his 46 years of operating. Eldora Speedway promoter, Earl Baltes, was forced to postpone the Eldora Million until June 8-9 of 2001, due to bad weather. The much hyped event, which will pay one million to the winner of a dirt latemodel event on Eldora's 1/2 mile clay oval.

---
On October 8th, the sun set for the final time, on more than four decades of racing at the historic Sunset Speedway, and Omaha's Joe Kosiski basked in the radiance. Kosiski, driver of the Patrick M. Pinney Contractors Chevrolet, won the Con Agra Cornhusker Classic Grand Finale. The 100-lapper was the last race ever for the Kelly family's speedway, the home of NASCAR racing in the Omaha area, which is closing due to encroaching development. The track has been in operation since 1957, and the Kelly family has operated it for the last quarter century.

---
Johnny Saathoff took home $7,000 as the winner of the 2nd Annual Fall Jamboree, held at Hamilton, CO. Speedway on Sept 30th. Saathoff's victory was nothing short of total domination winning by more than a full straight away.

---
Popular Grand National driver Dwight Wrich of Kennard, NE was pronounced dead Sunday night, Oct 1st, after suffering serious burns in a racing accident, on Saturday night at the Crawford County Speedway in Denison, IA. About 10 laps into Saturday's main event, Wrich's car made contact with another on the fast 1/2 mile oval. The car turned sideways, was hit, then rolled over on its top, bursting into flames almost immediately. Despite the brave efforts of several other drivers, fireman, medical crews and pit crew members, Wrich suffered serious second and third degree burns over much of his body. He was then Life-Flighted to St. Elizabeth Hospital burn unit in Lincoln, NE, where he passed away on Sunday evening. Following the tragic incident, the drivers decided to cancel the race and give the Grand National Purse of $5,500 to the Wrich family. Wrich's 10-year career highlights include, track championships at Crawford County Speedway and Shelby County Speedway in Harlan, IA, where he captured the prestigious Tiny Lund Memorial race just two weeks earlier. Dwight a great son, husband, father, friend and racer was Vice President of the Investment Department of Wells Fargo Bank in downtown Millard, NE. He is survived by his wife Patty and two children. A memorial fund in his memory has been set up at:

Dwight Wrich Memorial Fund
c/o Wells Fargo Bank
13259 Millard Ave.
Omaha, NE 65137

---
Until next time, see you where the dirt flies!

Please email questions or comments to wherethedirtflies@msn.com.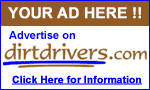 View Advertiser Index
Like to Write?
dirtdrivers.com is always looking for energetic people to write articles about local racing. Email us if you would like to join our team.