View Advertiser Index


March 2003

It feels so strange that we are about to kick off are Race season. At the same time are Family Members, Neighbors, Co-workers and thousand of other Americans are over seas trying to bring end to some of the Worlds evil.
GOD BLESS AMERICA!!!!!!!!!!!!!!

---
At this years Daytona 500, fans in attendance consumed.

8,000 pounds of hot dogs
5,000 pounds of hamburgers
30,000 slices of pizza
2,500 pounds of french fries
7,000 gallons of soda
200 tons of ice

---
In 1972 Jan Opperman won impressive 44 A-features.

---
FAST FACT: Over 140,000 spectators attended races at Eagle Raceway during the 2002 season

---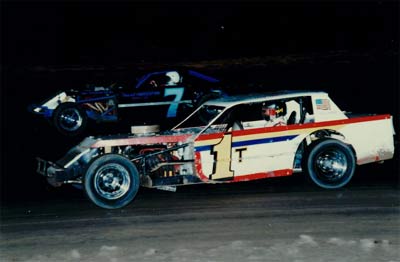 Photo of Tony Aksamit in the 1T at Midwest Speedway in 1986
Photo By: Joe Orth Photography
---
When Starvin Marvin Fuller takes the green flag at Eagle's season opener, not only will he become the first Modified driver since Tony Aksmit in 1987 to move into the Sprintcar division. But he will have also competed in five different classes at Eagle.

Eunduros
Flyers
Pro Ams
IMCA Modifieds
Sprintcars

---
Some IRL IndyCar Series Facts:

>The 650-horsepower engines are fueled by synthetic methanol, a colorless methanol alcohol.

>Fuel mileage is less than 2 miles per gallon.

>A car burns about 1.3 gallons a lap (2.5 miles) at the Indianapolis 500.

>Traveling at about 220 mph on straightaways, the cars cover more than the length of a football field in one second.

>At 220 mph, the front tires rotate at 43 revolutions a second.

>A car accelerates from 0 to 100 mph in less than three seconds.

>The average profile of the 39 drivers in the Indy Racing League:
-Average Age: 33
-Average Height: 5'-9"
-Average Weight: 159 pounds

---
Weldon (Sonny) Manely, hopes to see his first racing action sometime in May, After having to take the entire 2002 season off for shoulder surgery. Sonny has told me that his shoulder is almost pain free for the first time in three years. Sonny and brother Mark are also in the process of finishing their new racing shop where they will house a new Mirage Chassis. The primary sponser support will come from Race I.T. Racing Software.

(Look for Sonny's nephew who turns 16 in July to strap in for some hot laps. If he looks good they may let him race a night or two, depending on how Sonny's season is going.)

---
John Andretti is heading back to the Indianapolis 500 in May. Andretti's team, Petty Enterprises has given the former open-wheel driver permission to drive in this year's race after not letting him enter the 2002 race.

---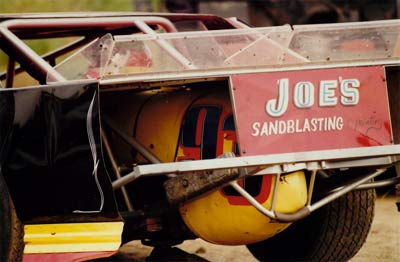 The real reason Dave Cook is so fast. His Latemodel is actually a Sprintcar in disguise.
---
The International Motorsports Hall of Fame is located in Talladega Alabama

---
Do you think Craig Cormack has ever eaten at McDonalds?

---
Chris Alcorn the 2002 Butler County IMCA Modified Champion has added a new 2003 Jet Mod to his racing stable to help him defend and win his second track championship at Rising City. And also help in his goal of winning the Beatrice track title.

---
Flash Back: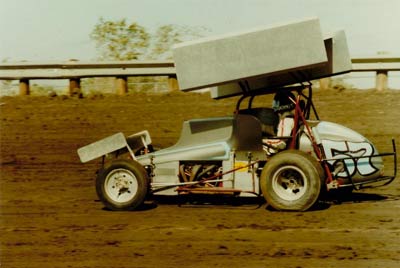 September 28th 1980-Lonnie Jensen in Sioux Falls, South Dakota
Car Owner: Bob Richardson
Photographer: Bob Mays

---
Jerry Trejo owner of Independent Equipment and driver of the number 4T IMCA Modified, will add a second car to the team for 2003 season. Plans are to have Mike Osterman pilot the number 3T ride.

---
HURT
By Stan Jones

There's many an old time racing man,
who stays away from the track.
For it hurts to watch the sport he loves,
and he feels the urge to go back.
He isn't afraid to drive again,
as he did in years gone by.
Though he thinks of his friends and their injuries,
and of those that he's seen die.

It hurts to give up the racing life,
it hurts to make the break.
And it hurts to watch the youngsters drive,
for you notice each mistake.

And you yearn to take the wheel again,
to show how it should be done.
And ghost from the past will beckon you,
and bid you, "Come back and run."

It hurts to quit for the call of the pit
is always deep inside,
And you would give the life you live
to take one final ride.
And final ride though it may be
you'd gladly take the risk.
For the thrill of the wind- pressed goggles
and the feel of the wheel in your fist.

---
>Loyal NASCAR fans, numbering 75 million, log on to the www.nascar.com website about 400,000 times daily.

>NASCAR ranks third of all sports in licensed merchandise.

>If you add in the developmental Touring and Weekly Regional Series races, NASCAR sanctions 2000 events a year at more then 135 tracks in 41 states.

---
1984-Craig Bolz's Rookie Season- Photo by Bob Mays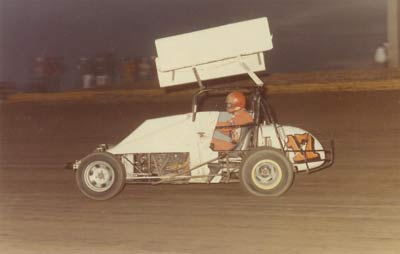 The 1984 360 Sprintcar Rookie of the year at Midwest Speedway was won by Craig Bolz of Palmyra, NE.


Other Rookies that year:
Mike Chadd
Ron Galusha
Dwight Carter
Rod Meier
Skip Ross
Dan Witzi

---
Sixteen-year-old Shannon Fulkerson of Ashland, NE. Will be hanging up the wing for the 2003 season. This speedster who tore them up in the Modified Midget ranks has parked her midget. Plans are to start her Latemodel career this season as she competes at Butler County Speedway and Nebraska Raceway Park.

---
The first race in America:

Charles Duryea won the first automobile race ever run in America, on Thanksgiving Day, 1895. There were six contestants, Duryea won with an average speed of 7.5 mph, not so bad considering the course was covered with as much as 12 to 18 inches of snow and ice.

---
Brad Krutz won the Sportsman Class point championship in 1995 at Cornhusker Raceway Park.

---
What ever happened to Dana Drake?

---
Until next time, see you where the dirt flies!

Please email questions or comments to wherethedirtflies@msn.com.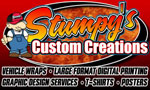 View Advertiser Index
Like to Write?
dirtdrivers.com is always looking for energetic people to write articles about local racing. Email us if you would like to join our team.