View Advertiser Index


April 2003

I had an experience the other day that will change me forever. I went on my first racing outing, in which I was behind the wheel. Everything was going fine until the car started bouncing out of control. I tried with all my might to hang on, but was thrown into the wall. Just when things could not possibly get any worse, my foot gets caught in the gas pedal! The car flies out of control, I could not get to the brake! In the grass, up the wall, back down across the track, the car did not stop or even begin to slow down. Just as I was giving up all hope and starting to lose consciousness, the Wal-Mart manager came out and unplugged it.

---
Bill Wrich and Bud Burdick, where co-track champions at Sunset Speedway in 1961

---
Four time NASCAR champion Jeff Gordon and 2002 Indianapolis 500 winner and Formula One driver Juan Pablo Montoya will switch cars for a speed test at Indianapolis Speedway. Gordon will drive Montoya's BMW WilliamsF1 FW25 car while Montoya will take a spin in Gordon's Chevrolet Monte Carlo on the 2.606-mile road course June 11.

---
Rik Gropp, one of the Top Guns at Eagle Raceway in the IMCA Modified ranks, was recently inducted into the Huskerland Wrestling Hall of Fame. The Hall of Fame was formed to honor those who have given outstanding service to youth wrestling in the state. Rik has maintained a long-standing involvement in wrestling. He began wrestling at the age of 10. He started his coaching career in 1981 for the Lincoln Midget Wrestling program. From 1986 till 2001, he was an assistant wrestling coach for Lincoln Southeast High School. In 1987, he formed the Lincoln Squires Wresting Club with Mike and Mary Munter. (The Squires had 13 wrestlers qualify for Huskerland State Championships in 2003) He has also coached numerous wrestlers that have went on to place at the Nebraska State High School Tournament, including four on the 2002-2003 Lincoln East High School Class A State Champion team. Everyone who has come in contact with Rik has become a better person. He has a real interest and a real relationship with the kids he works with. With Rik it's not about winning or losing, but about each of his kids gaining confidence, improving themselves and performing up to their ability.

-Information provided by Michelle Evans

Congratulations Rik!

---
Nebraska Auto Racing Hall of Fame president Tony Glenn has announced six new inductees for 2003.

The 2003 inductees are:

John Davisson - Franklin, NE.
Leonard Janke - Pender, NE.
Pete Liekam - Lincoln, NE.
Don Maxwell - Lincoln, NE.
Chuck Sears - Hastings, NE.
Howdy Williams - Omaha, NE.

The ceremony is scheduled for Thursday evening, September 18th at the Smith Collection Museum on the Speedway Motors complex.

These six inductees are among the most varied in the history of the Nebraska Auto Racing Hall of Fame.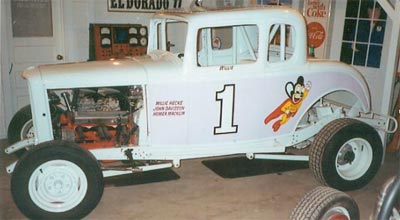 >Davisson was the owner of the famous Mighty Mouse supermodified, which Wilber Hecke and Cliff Sealock drove to fame. Both Hecke and Sealock are previous inductees.

>Janke comes from a road racing background, having raced in Europe and in Can-Am and Trans-Am series here in the States.

>Liekam was a car owner, official and promoted Midwest Speedway for many years.

>Maxwell built some of the most dominating sprint cars in the 1970's.

>Sears raced hot rods, modifieds and midgets before starting a long career as a flagman in Central Nebraska.

>Williams was one of the most dominating drag racers in Eastern Nebraska in the 1960's.

This is the sixth induction class into the Nebraska Auto Racing Hall of Fame and these six will join 38 other individuals who have already been inducted since 1998.

---
Sammy Packard, 83 and the last surviving founder of NASCAR recently died of unknown causes. Packard was one of the 35 racers, mechanics and promoters whom Bill France Sr. called to a summit on Dec. 14, 1947, held in the Ebony Bar atop Daytona Beach's Streamline Hotel to lay the groundwork for the organization.

---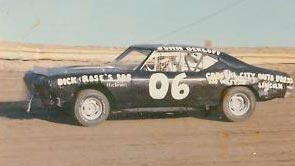 John Gerloff at Midwest Speedway in 1976
---
Who would win in a fight of racetrack mascots? Nebraska Raceway Park's Mac McSpeed or Eagle Raceway's Pride the Eagle?

---
US-30 Speedway in Columbus Nebraska has added a new class to their weekly 2003 season line up. The new division has been named "Four Fun Cars" The class is a four cylinder division strictly for front wheel drive cars with an $850 claim for the entire car with the exception of the seat and seat belts. Anyone, spectators included, are allowed to claim.

---
Talking about carry-on baggage, The IRL IndyCar Series sent enough equipment to the Japan 300 at Twin Ring Motegi to fill two Boeing 747 jets.

Some of the cargo:
>1,078 tires for 42 race cars.
>3 safety trucks and 2 jet dryers.
>2 Chevrolet Corvette pace cars.
>555 crates of equipment.
>200,000 pounds of gear worth $45 million.

---
FAST FACTS: 2003 Beatrice Spring Nationals,

>135 IMCA Modifieds competed over the three day period.
>44 IMCA Stock Cars
>13 States and 1 Canadian Province were represented.
>Ritchie Beasley was this years longest pull winner. (Alabama)
>The IMCA Stock A-Main winner (Bill Wood from Fairbury, NE.) pocketed $600.00
>The IMCA Modified winner (Dave Trauernicht From Beatrice, NE.) took home $5000.00

---
Here is a joke my six-year old son recently told me.

There where two tomatoes racing. One tomato got out to a big lead. Just then the tomato in the lead looked back at the other tomato and yelled "hey KETCHUP"

---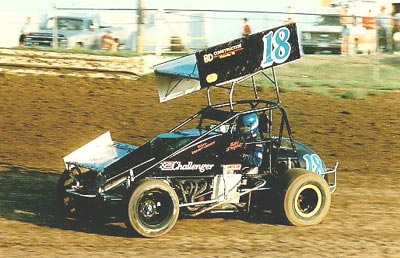 Todd Dreifurst won the 1989 Rookie Of the Year at Eagle Raceway.
(Photo By Joe Orth Photography)

Other Rookies in 1989:
Todd Splain
Dave Weak
Dana Drake
Terry Vantine
Tim O'Bannion
Kenny Brown
Bill Martin
Ron Love
Mike Mateja

---
The very first speed record is said to have been set in 1897 by Alexander Winton, who covered a mile in his little runabout in 1 minute, 47 seconds.

---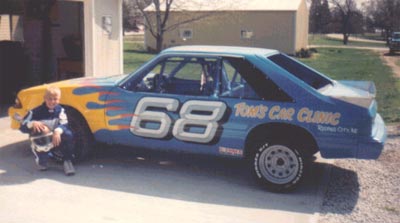 Damon Richards, the son of Jamie and Shelly Richards, will be racing this beautiful machine, a 1993 Mustang (4 banger, 4 speed) at Creek County Speedway in Sepulpa, Oklahoma, as soon as he turns eleven this April. That's right 11 years old! The division is a kids only 4 cylinder class.

Damon is a 5th grader at David City Elementary; his summers are filled with playing Soccer and Baseball and like most 10 year olds he's into Nintendo and Computers. Damon's racing career consists of competing in the Jr. Gas Class (Karts) in Stanton, NE. The last couple of years, with one A-main victory and a bucket full of top 5's. The reason the move from Karts to the 4 cylinders is because of his size (he's almost 5'2" already), which will make him ineligible to compete in the Gas Class this season. So instead of moving into the alcohol division that is as expensive as Stock Cars, why not the 4 cylinders where he'll gain some valuable full size car experience now. So when this little speed racer turns 16, LOOK OUT!

Damon comes from a long line of talented drivers, from his grandfather who competed at the now closed but famed Midwest Speedway in the late 60's to the 1970's to his father who has amassed numerous awards and accomplishments during his racing career.

So remember this name "Damon Richards".

---
What ever happened to Tim Swanson?

---
Until next time, see you where the dirt flies!

Please email questions or comments to wherethedirtflies@msn.com.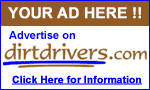 View Advertiser Index
Like to Write?
dirtdrivers.com is always looking for energetic people to write articles about local racing. Email us if you would like to join our team.