View Advertiser Index

Banner Ads

Banner Ads rotate across all pages on the site, ensuring dynamic placement and maximum exposure for your company to the dirtdrivers.com users. Your banner will also be displayed on the Advertiser Index page.

Clicking on your banner will take the user to your Web site. If you do not have a Web site, dirtdrivers.com can build a very economical Web page that can serve as your Web site. The site would be branched off of the dirtdrivers.com site, and comes with complimentary hosting services.

You will have access to banner hit statistics on the My Account page, allowing you to monitor the number of hits your banner receives.

You have your choice of two banner sizes - 468x80 or 150x90. You may supply your own banner or dirtdrivers.com can design one for you. Banners need to be in jpg or gif format with a 30k max filesize.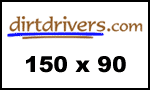 Banner Ad Rates

468x80 Size - $50/Month or $500/Year
150x90 Size - $40/Month or $400/Year
Additional Banners - 25% Discount
Branch Hosting - No Charge
Banner Design - $20/Hour
Web Site Design - $20/Hour


Text Ads

Text Ads consist of lines of text appearing on our home and other pages, including links to direct traffic to various pages of your Web site.

You may also have a branched Web page hosted on our site that your ad can link to.

Changes may be made to the text at any time for a nominal fee. Change options may also be purchased in any quantity up front for half price of the normal fee.

Text Ad Rates

1-Line* - $20/Month or $200/Year
Each Additional Line* - $10/Month or $100/Year
Additional Pages - $10/Month or $100/Year
Branch Hosting - $10/Month or $100/Year
Web Site Design - $20/Hour
Prepaid Change Options - $5/Change
Subsequent Changes - $10/Change

* Text must fit on one line on home page in 800x600 resolution with size 2 Verdana bold font.