View Advertiser Index


June 2003

In my never-ending quest to make this column the best I can. I have added a food critic. You ask a food critic. And I reply yes a food critic. But why a food critic in a Motorsports column. Well, In this day and age going to the races has become more then just showing up and watching your favorite driver spin circles. It has become a more fan friendly sport, a family event. Cleaner bathrooms, Fireworks, Fan participation, Track Mascots, Face Paintings, Balloons, Bands to entertain after the races, and much more. You can now dine on almost anything imaginable while attending the races. The always-popular Nachos and Hamburgers, Gizzards, Popcorn, Pork Tenderloin and so much more can be found at most tracks. And now Promoters and Owners are bringing some of are most favorite out to eat establishments to the track. Papa Murphy's, Runza, Famous Daves, Godfathers, Pizza Hut and Colby Ridge. That is why I have decided to add a food critic. Someone who can help make your choices easier next time you're standing in that long line during intermission, Or that quick trip to the snack shack the next time that caution flag starts a waving. I searched long and hard to find the right man/woman for the job. And every time I kept coming back to the same guy. This dude is a Hot Dog connoisseur, He has two dogs down before most fans hit the front gate. So with all that, I'm privileged to announce a name known by message board surfers' world wide as Sprintcar93 the new Where The Dirt Flies Race Track Food Critic. (His real name will be kept anonymous out of respect of all his victims.) He will grade track hotdogs with the always popular, DT3 Hoosier Spec Sprintcar tire ranking. 1 poor - 5 being the very best. He will also have his Track Food Best Bet. I hope by adding a Food Critic it will just give you all one more reason to turn in each month. Also maybe some track promoter may read this and add Taco Bell to the menu.

Sprintcar93's June Track Rankings:
Eagle Raceway: Hot Dog 3 ˝ DT3's
Best food choice at Eagle: Mini Corn Dogs

Knoxville Raceway: Hot Dog 1 ˝ DT3's
Best food choice at Knoxville: Hostess Sno-Balls at the Casey's Convenience Store across from track.

---
The Larry Bogdonavich Memorial Race, held annual at Wave-Link Raceway Park will be run on Friday July 18th.

Time Trials start at 6pm
For more info call 402-786-5588 or 402-259-3920

---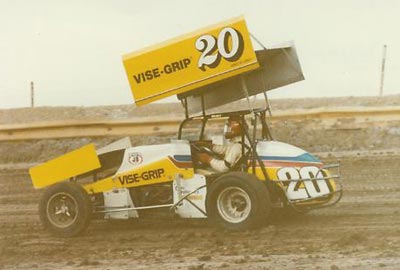 Lealand McSpadden driving for famed car owner Bob Trostle at Midwest Speedway in 1980
Photo by Bob Mays


McSpadden has recently been diagnosed with cancer.
Cards can be sent:
Lealand McSpadden
16231 E. Via De
Palmas Gilbert, AZ. 85297

---
Retired sprintcar Ace Dean Chadd sits in second place in Knoxville Raceway's career 360 feature wins. (1981-2003) With a total of 18 lifetime victories at the famed ˝ mile. (Lonnie Jensen and Mike Chadd are tied at 8th with 10 wins apiece.)

---
DeWayne Manchester won the Amateur Track Championship at Sunset Speedway in 1977. That same season Dan Rabbass captured the Points Title in the Pony Class.

---
Former NASCAR great Buck Baker once worked as a bus driver on the streets of Charlotte, NC.

---
The Nebraska IMCA State Points as of June 20th

Modified's Top Five:
-Jason Friesen / Sutton, NE - 926
-David Trauernicht / Beatrice, NE - 831
-Chris Alcorn / Lincoln, NE - 761
-Matt Richards / Lincoln, NE - 701
-Scott Bivens / Lincoln, NE - 697

Stock Car's Top Five:
-Shane Stutzman / Milford, NE - 656
-Shawn Barry - 603
-Dustin Small - 584
-Charley Brown - 559
-Scott Wiens / Beatrice, NE - 524

Hobby Stock's Top Five:
-Brandon Johnson / DeWitt, NE - 787
-Pat Huggins - 697
-Terry Shearer - 696
-Brent Schlake / Blue Springs, NE - 646
-Tim Fralin / Beatrice, NE - 597

(Jason Friesen sits 2nd in the IMCA Modified National Points as of June 18th)
(Terry Shearer sits 4th with Brent Schlake 9th in the IMCA Hobby Stocks National Points as of June 18th)

---
The most consecutive World Rally Championship titles are four, won by Tommi Makinen and co-driver Risto Mannisenmaki both from Finland. (Between 1996-1999)

---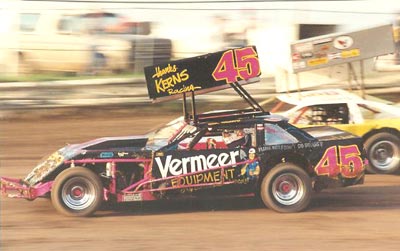 Bring back the wings!!!!!!!!
This shot is of Rik Gropp from 1991 at Eagle Raceway. That season the Modifieds were aloud to run wings at various races throughout the season.
Photo by, Joe Orth Photography

---
Former NASCAR driver Frank Mundy served as a personal driver for General Patton during World War II.

---
Robot Race

Robots will be competitors in a new race that is being organized by desert racing producer and sanctioning body SCORE International together with the Defense Advanced Research Projects Agency (DARPA), which is the research and development agency for the U.S. Department of Defense. The DARPA Grand Challenge will be the first competition ever held for autonomous robotic ground vehicles, SCORE International says. The race is to be held March 13, 2004, as a research project for the Department of Defense. Teams will square off in an elapsed-time event. Nearly all of the route to be used will be in the desert between Los Angeles and Las Vegas. DARPA will present a cash prize of $1 million to the team that most quickly completes the course in less than the prescribed time. Nearly 400 interested participants took part in a symposium at which the official announcement of the event was made.

---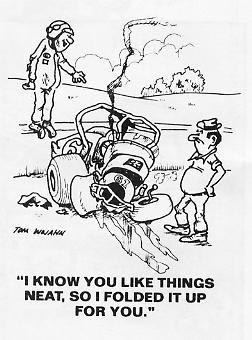 ---
Bobby Unser, the winner of the 1968 Indy 500. Averaged 152.9 mph during the race.

---
In NASCAR pit stalls are chosen by the qualifying order. The pole sitter chooses first, etc.

---
The next time your standing in line at your favorite place to race. Remember the average person over fifty will have spent 5 years waiting in lines of some sort during their life.

---
Congratulations to 13 year-old Jack THE GAS MAN Dover who competes weekly at Wave-Link Raceway Park in the Restrictor Class. Dover captured the Missouri State Race and then tops it by taking the checkers the following weekend by bagging the Nebraska State Race.

---
Do you find it ironic that the Daytona 500 is known as the "Super Bowl" of stock car racing when the Daytona 500 is 10 years older than the Super Bowl?

---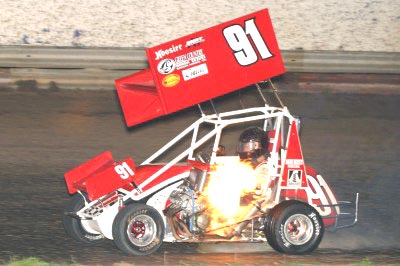 The racing action got a little HOT for Broken Arrow, Oklahoma's Kevin Bayer.
As his motor decided it had had enough during the Multi "A" feature at the Nebraska State Race at Wave-Link Raceway Park on 6/14/2003
Photo by: Jason Rief

---
You know you have too much horsepower when....

You throw your underwear in the garbage rather than the hamper.

---
75 million adults, 37 percent of the U.S. population, are NASCAR fans.

---
In talking with Nebraska Raceway Park photographer Fred Ensminger. He told me a racing story from the early 90's. After finishing second to brother Steve at Davenport for the SIXTH STRAIGHT TIME, Following the race Joe Kosiski says 'I just don't know what I can do to make this car go any faster……….. One of Joe's daughters then said 'let Uncle Steve drive the car………

---
Driving a 1957 Pontiac at the Daytona Beach/Road Course on February 17, 1957, Cotton Owens was the first driver to average more than 100 mph. in NASCAR history.

---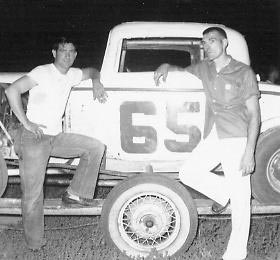 All right since you all did so well with helping with last months mystery photo. (Glen Robey)
Here is another pic from the past. I'll I know is it like last months shot was taking at the now closed Capitol Beach track

---
You Might Be A Racer If...

Your email address refers to your racecar rather than to you.

When something falls off of your car, you wonder how much weight you just saved.

You measure all family acquisitions in terms of the number of race tires that could have been purchased.

You have car parts in your cubicle at work.

You're registered for wedding gifts at Speedway Motors.

Your friends don't recognize you without a helmet and driver's suit.

Your first date involves asking her to crew for you.

---
CNCTA Friesen Chevrolet Challenge Series top ten in points after 4 events:

Bo Egge / Kearney, NE - 151
Al Humphrey / Giltner, NE - 149
Tommy Rowe / Doniphan, NE - 146
Mike Wiarda / Aurora, NE - 139
Randy Hall / Exeter, NE - 127
Jason Humphrey / Phillips, NE - 125
Kevin Hamele / Papillion, NE - 121
Don Smith Jr. / Norfolk, NE - 112
Mike Danielski / Valentine, NE - 112
John Bridges / Columbus, NE - 109

---
Image if NASCAR driver Tony Stewart does take over the captains chair with the World of Outlaws organization! As some rumors have suggested. I can see the first rule he would have implemented. NO FANS permitted into the pit area requesting autographs or photos of drivers!

---
Superstitions and Rituals have always been a big part of sports. With racing being no exception. Many drivers and racing team members have superstitions they've developed over time to help them "GET LUCKY"

Formula One champion Michael Schumacher is one of many drivers who make it a ritual to get into their cars the same way each time. For Schumacher the left side is the "lucky" side. He even goes so far as to make certain it is his right foot that he puts into the car first.

Veteran NASCAR driver Robert Pressley always makes sure he has a banana sandwich before the race starts.

Former NHRA drag racer Joe Amato would wear the same SNOOPY socks for each race. Superstitions are not only found in the big time, they are also very prevalent in the local racing scene.

Grand National driver Jody Krug, will not eat chicken the day of a race.

Rookie Sprint Car driver Nick Bryan and the Bryan Racing team does not let the color green onto their pit area.

Mitch Dowhower who competes at Blackbird Bend Speedway in the Hobby Stock division always has his LUCKY penny glued to his dash.

Beatrice Speedway Pro-Am racer Eric McMillan NEVER loads the car up until the day of the race!

Hobby Stock pilot Lance Todd, always watches Days of Thunder before heading to the track.

Modified Midget jockey Adam Gullion always lets his sister draw for his starting position.

Riviera Raceway Street Stock driver Eric Sloan prays every time he is about to pull onto the track.

Tim Terry, who competes weekly at Nebraska Raceway Park in the Hobby Stocks Class, taps on a stuffed bear that hangs from his roll bar during the parade laps and also under yellow flag conditions.

Thomas Belsky of the Heartland 305 Sprintcar Series always kisses his wife and lets her no his love for her before he is pushed off.

Driver Brain Kenkel, always has a St. Christopher's medal in his car during a race. (St. Christopher is the patron saint of safe driving.)

---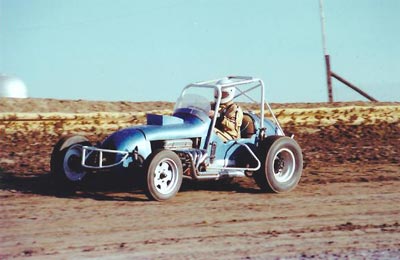 Kenny Beedle at Midwest Speedway in 1981
Photo By, Bob Mays
---
Throughout a race, a NASCAR race car must weigh a minimum of 3,400 lbs., ready to compete (that is, with gasoline, oil, water, etc.) without driver and must maintain a minimum right side weight of 1,600 lbs.

---
The Midwest Racers Autograph Day committee has decided to hold next year's event indoors to avoid problems with weather. They have secured the Lancaster Event Center at 84th & Havelock Avenue in Lincoln for the event to be held on Saturday, April 3rd. The indoor venue will also provide more space for sponsors and better visibility to the public.

---
The minute you start talking about what you're going to do if you lose, you have lost.
- George Shultz

---
More than 1,400 auto racing facilities are currently active in the United States and Canada, according to the 2003 National Speedway Directory. This total includes oval tracks, drag strips, road courses, and figure 8 tracks. The directory, which is published May 1 each year, also lists in its latest edition more than 250 sanctions, 100 racing publications, and 45 racing related museums. The 2003 edition is available for $12 from National Speedway Directory, P.O. BOX 448, Comstock Park, MI 49321.

---
What ever happened to Greg Baade?

---
Until next time, see you where the dirt flies!

Please email questions or comments to wherethedirtflies@msn.com.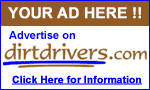 View Advertiser Index
Like to Write?
dirtdrivers.com is always looking for energetic people to write articles about local racing. Email us if you would like to join our team.