View Advertiser Index


Fall 2003

Even when they're not running at 100 mph plus, Americans love their cars, period. Consider the results of a survey recently conducted by the International Carwash Association (ICA). The survey of 1000 U.S. car owner's concluded that 84%, or about 116 million American drivers, "feel affection or emotion" for their cars. The research determined that:

>60% of all car owners hold conversations with their cars.
>50% have kissed or "Made Out" in their cars.
>34% made a life decision in their cars.
>27% give their cars pet names.
>26% were told they were loved for the first time in a car, or knew someone who was.
>22% display pictures of their cars.
>20% hold meetings in their cars.
>19% "Hang Out" on their cars rooftop.
>10% got engaged in a car, or knew someone who did.
>4% have celebrated their car's birthday and /or anniversary.
>4% were named after a car, or knew someone who was.

---
Where would you rather be: Daytona in February or Indianapolis in May?
Which movie would you rather watch: "Days of Thunder" or "Driven"?
Who would you rather have a beer with: Scott Bloomquist or Steve Kinser?

---
Drivers Lingo

Back Off - Decelerate, usually going into a turn.

Bite - Traction; car with good bite is "sticking" well.

Chute - Either straight away of track, usually referred to as front or back chute.

Cowboy - A wild or erratic driver, usually "over his head".

Flat Out - Driving at top speed: wide open.

Groove - Fastest pattern around a given track; usually out wide in straight aways close inside on turns.

Handling - General behavior of a car at speed; how well it "sticks" and corners.

Ride - Assignment of a driver to a given car ("he got a ride in the number 32 car").

---
SPRINTCAR93's Monthly Track Food Picks:
1 poor - 5 being the best

Bellville High Banks: Hot Dog 3 ¾ DT3's
Best Food choice at Bellville: Nacho

Butler County Speedway: Hot Dog 5 DT3'3
Best food choice at Butler County: Hot Dog
(In 2001, Supermarket hot dog sales totaled $1.7 Billion - The average American eats 70 wieners per year.)

---
Beatrice Speedway's: Top Five All Time Feature Winners. And the classes that they captured them in.

1) Johnny Saathoff - 87 wins (Late Models, IMCA Modifieds)
2) David Trauernicht - 48 wins (Flyers, Pro-Ams, IMCA Stock Cars, IMCA Modifieds)
3) Bob Zoubek - 39 wins (Factory Stocks, Pro-Ams)
4) Derek Fralin - 29 wins (Factory Stocks, IMCA Hobby Stocks, IMCA Stock Cars)

Three drivers tied with 25 victories.
5) Tracy Arntt - 25 wins (Broncos, Flyers, Pro-Ams)
Kevin Larkins - 25 wins (IMCA Modifieds)
Frankie Legg - 25 wins (Broncos, Street Stocks, Modified Street Stocks, Pro-Ams, IMCA Modifieds, Late Models)

These numbers where compiled through 1961 to June 28th of 2003.
Information provided by, Tom Denton

---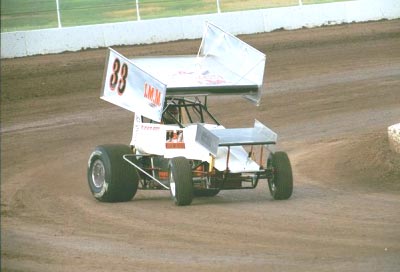 6-Time Eagle Raceway Track Champion (1987,1988,1990,1993,1994,1994)
John Gerloff hitting the slopes at Rocky Mountain National Speedway at a recent ASCS show.
Photo by, Pro Sports Photos

---
Ray Lee Goodwin Sr. was the 1971 Knoxville Raceway Track Champion.

---
What a way to get a nickname...

Dan Mueller, who competes weekly at both Adams County Speedway and Crawford County Speedway in the Modified ranks, has been tagged with the nickname of The "Human Jackstand". The name came about while working on his racer; he moved one of the two jack stands the car was resting on. The car then collapsed onto him. It had to be lifted off by his crew. The fallen car broke Mueller's collarbone, but it wasn't enough to stop him from racing that night!

---
You Might Be A Racer If...

- You've paid $4.00 a gallon for gas without complaining.

- You refer to the corner down the street from your house as 'Turn One."

- You hate long distance driving, but you will gladly drive 800 miles for a race.

- The local tire shop won't honor the tread life warranty on any car you have been within 50 yards of.

- You would choose a roll cage over air conditioning if it were an option.

- You spend more on Insurance premiums than on food.

- You've started looking for sponsors for your daily commute.

- After you tell your wife where you'd like to go on your vacation she answers: 'Why… is there a race there?"

---
NASCAR Legend Cale Yarborough was once a semi-pro football player.

---
EAGLE SPRINT TOURING SERIES

Top Ten: after 4 events

1) 5B Rick Ideus - Roca, NE. / 559
2) 44 Doug Lovegrove - Waverly, NE. / 549
3) 4 Mike Chadd - Lincoln, NE. / 536
4) 82 Jason Danley - Lincoln, NE. / 523
5) 28 Ken Klabunde - Omaha, NE. / 480
6) 13 Seth BIG FOOT Brahmer - Wisner, NE. / 471
7) 32 Terry Ledger - Omaha, NE. / 465
8) 22 Billy Alley - Lincoln, NE. / 447
9) 9x Brad Barickman - Omaha, NE. / 443
10) 23c Chad Humston - Giltner, NE. / 438

---
Are time trails really necessary?

---
When a driver is shown the move over flag, how come they don't?

---
Road racing did not make its debut in America until 1904. In 1899, American newspaper publisher James Gordon Bennett resolved to do something about the French domination of racing. To encourage American manufactures to build cars that could compete with the French, he organized the Automobile Challenge Cup race and invited automobile clubs from every country to compete. The race, which became better known as the Gordon Bennett Trophy Race, became the first great racing series in automotive history. The race ran only six years, from 1900 to 1905, yet it set the tone for what would become Grand Prix Racing.

---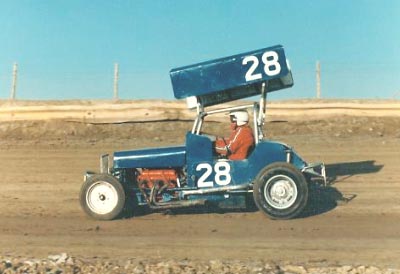 Mick McDaniels in 1981 at Midwest Speedway
Photo By, Bob Mays

---
I race cars, play tennis, and fondle women, but! … I have weekends off, and I am my own boss. - Arthur Bach (Dudley Moore in the movie "Arthur")

---
The 5th Annual Sandhills Modified Shootout held yearly at North Platte, Nebraska's Lincoln County Fairgrounds. Will be held on August 1st, Gates open at 5:00pm with racing getting started at 7:00pm. This event pays the winner $5,000 and is Non-Sanctioned.

General Admission:
Adult - $10.00
Child 7-12 - $5.00
Child 6 & under - Free
Pit Passes - $20.00

For More information contact:
Fairgrounds Office ------(308) 534-8191

---
A Formula One racecar puts out approximately 800 horsepower and has a maximum RPM of 18,000. Top racing speed is approximately 225 miles per hour.

---
Ex - Late Model driver and former NCRA National Points Champion Tony Gregg will be taking the seat in the Chad Smith owned BMS modified.

---
Retired NASCAR driver Ernie Irvan once earned money repairing grand stands at the Charlotte Motor Speedway.

---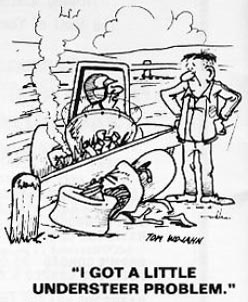 ---
17-time World of Outlaws Champion Steve Kinser is also a 10-time Eagle Nationals Champion.

---
Dick Jensen of Aurora, Nebraska was the 1976 Midwest Speedway Late Model Stocks point champion.

---
POWER SLIDE

The longest ever horizontal power slide in a car lasted 2 hours 11 minutes 18 seconds, and was performed by Britain's Simon de Banke on July 29, 2001, at the wet-grip circle at the MIRA Proving Ground, Nuneaton, Warwickshire, UK. Simon drove a standard Subaru Impreza WRX 2001 on a surface of Bridgeport pebbles, which, when wet, are designed to have similar handling characteristics to compacted snow. To set the World Record, Simon was required to keep the car in a constant power-slide- without spinning, straightening up or changing lanes- for 15 minutes… Although he managed to sustain this for well over 2 hours!

---
A.J. Foyt holds the record for the most Indianapolis 500 starts at 35. Foyt qualified for every race from 1958 to 1992.

---
On Labor Day 1975, at the last advertised 1/3 Mile Championship held at Eagle Raceway, Jan Opperman beat Don Maxwell to the finish line to capture what would become his only win at the Worlds Fastest 1/3 mile. (The track was so dry slick that day, that if Maxwell would have gotten to the point first, Opperman would have never been able to pass him to win the race. - Ollie Buck

---
The Don Garlits Museum of Drag Racing is located in Ocala, Florida

---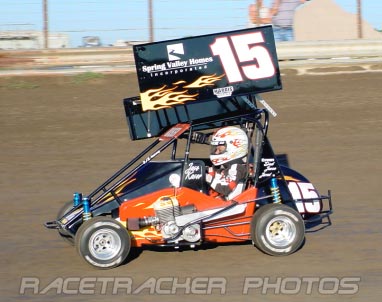 Jase Kaser turning laps at Wave-Link Raceway Park.
Kaser competes weekly at Wave-Link in the Junior Sprint Division.
Photo By, Randy Lawrence of Racetracker Photos

---
It's been known that Auto Racing fans can be some of the most loyal fans of all Sporting events. Including supporting their favorite teams sponsors, as will as buying and doing business with indulviels that support racing. Now that Winston will no longer be the series sponsor of NASCAR, How many people will continue buying cigarettes?

---
Desert racing is like an all day plane crash. - Parnelli Jones

---
~You Might Be A Racing Fan If...

When you have an accident, the first thing you try to do is pull off the steering wheel.

Every time you rotate your tires at home you put the stopwatch to it, record the time and try to better it next time.

You can get 12 cans of beer, 4 quarts of Gatorade, and 8 sandwiches into a 14' cooler and NOT squash anything.

You get caught stealing the Life-size cutout of your favorite driver from the local grocery store.

You can't balance your checkbook, but CAN explain the point system.

---
Steve Frisell was crowned the Eastern Nebraska Modified Midget Association Champion (ENMMA) in 1981, in the AA Twins division.

---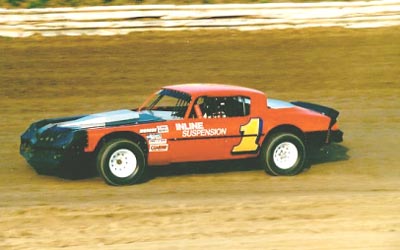 Starvin Marvin Fuller in 1993 at Eagle Raceway in the Pro-Am Class
Photo By, Joe Orth Photography

---
OPEN WHEEL NEWS AND NOTES:

Congrats to Travis Birkett and his better half Jill on the arrival of their new bundle of JOY. Birkett, a long time pit hand and former fender racer, who has turned wrenches for many area open wheelers. Will now have to add changing diapers to his forte.

Congrats also go out to former Big Wheel Racer Mark Lyon and Monica Lyon on the arrival of their new son.

Seth BIG FOOT Brahmer will be dropping the Eckley 410 in and taking his shot at this year's Knoxville Nationals.

Chris Roseland has his name on the same motor for the return of the Outlaws to Eagle in September .

Dan Humston has purchased two Maxims Chassis's from Phil Durst, to keep son Chad in the game.

Look for the return of Greg Boolte to be back in the 00 Shakers mount some time in August.

Eagle's very own princess of the High Banks, Cori Eckely is in the running for Knoxville Nationals Queen honors.

Sprintcar rookie Chad Fegarly has lent Bruce Divis a power plant, so Divis can continue his quest for the 2003 Eagle Points Championship.

---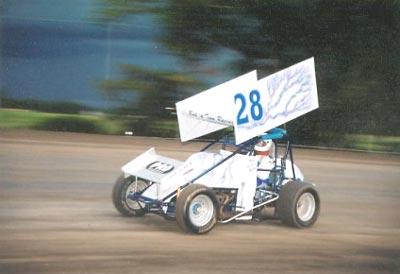 Thomas THE BREEZE Belsky doing laps at a recent Heartland 305 Sprint Series show at North Platte's Lincoln County Raceway.



Photo By, Speed Sports Racing Photography
---
George Reeh won both the 1983 and 1984 Sunset Track Championship, in the Bronco Division.

---
Johnny Rutherford, one of America's most successful drivers, is a three-time Indy 500 winner. In addition to his three Indianapolis wins in 1974, 1976 and 1980, are 27 total Indy car wins, placing him seventh on the all-time victory list. He won his first Indy car race in 1965, the Atlanta 250. In 1986, Rutherford made his final trip to the winner's circle when he became the oldest 500-mile race winner at 48, taking the Michigan 500.

---
IMCA NEBRASKA STATE POINTS

Top Five as of 7/25/03

Late Models:
1) Bo Egge - 401
2) Jason Humphrey - 394
3) Steve Kempt - 364
4) Ron Lee - 329
5) Mike Danielski - 314

Modifieds:
1) Jason Friesen - 1435
2) David Trauernicht - 1199
3) Johnny Saathoff - 1143
4) Chris Alcorn - 1075
5) Jay Steffens - 1046
(IMCA Modified National Rank as of 7/23/03 - Jason Friesen 4th,
David Trauernicht 6th, Ricky Stephan 7th)

Stock Cars:
1) Dustin Small - 1109
2) Charley Brown - 1033
3) Todd Chrisman - 876
4) Shane Stutzman - 839
5) Scott Wiens - 795

Hobby Stocks:
1) Brent Schlake - 1123
2) Brandon Johnson - 1088
3) Pat Huggins - 1050
4) Terry Shearer - 986
5) Tim Fralin - 918

(IMCA Hobby Stocks National Rank as of 7/23/03 - Brent Schlake 7th, Terry Shearer 10th)

---
It may or may not surprise you to know that of the 20 most attended sporting events in 2002, 17 were Winston Cup races.

---
Independent research done shows that 67% watch racing events on television, 46% attend races and nearly 18% participate in auto racing. And if you are among the one in five who's a weekend warrior, you know you're not in it for the money.

---
Whatever Happened To, Greg Gandall?

---
Until next time, see you where the dirt flies!

Please email questions or comments to wherethedirtflies@msn.com.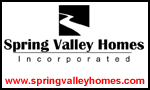 View Advertiser Index
Like to Write?
dirtdrivers.com is always looking for energetic people to write articles about local racing. Email us if you would like to join our team.