View Advertiser Index


Summer-Fall 2002

Since it's inception in 1995, I have attended EVERY Nebraska State Championship race held annually at the State Fair Park. To that I would like to thank Tony Glenn and all others that have brought this great event to us each fair season. This year the fair board has decided not to hold the championship event. Oh don't worry you'll still be able to see the Combine Demolition Derby, and the Monster Truck Rally, but like everything in today's society if it doesn't make a buck then what good is it? That brings me to this: how long have we continued to hear how the horse races finish the year in the red. But they continue to dump buckets of cash into keeping old Sea Biscuit alive and running. So this year I will be boycotting the Nebraska State Fair and all it's events. It's really going to be tough on me, especially after hearing the Statler Brothers will be performing their farewell tour this year.

---
Delmar Friesen received a unanimous vote by the McCool Junction Town Board members in favor of building what will become Nebraska's newest racing facility. Friesen hopes to have the 3/8 mile dirt Oval up and running by the start of the 2003 race season, with perhaps up to 15 races in the first year of operation.

---
In 1955, Bob Sweikert, an Indianapolis native, won the Indy 500. Bill Vokovich seeking his third consecutive victory is killed in a four-car crash on the 56th lap.

---
Nascar.com has added a Track Pass feature that lets on-line users listen to drivers talking to their crews and offers exclusive post race video highlights. The site claims it already has drawn 55,000 subscribers paying about $5.00 a month each.

---
Steve Frisell captured the Eastern Nebraska Modified Midget Association (ENMMA) Championship in 1981, in the AA Twins division.

---
Eagle Raceway has added two additional practice days:

Wednesday July 17th
Wednesday August 28th

The pit gates will open at 5:30 with the practices running from 7-9pm. These practice dates are open to all classes. Main grandstand admission is free and pit admission is $15.00. Any further info needed call Eagle office at 402-484-7704.

---
Former Nebraska residents Joe Saldana and the late Jan Opperman both took their shot at the famed Indianapolis 500, during their brilliant racing careers. Saldanna ran in 1978, finishing 15th and then again in 1979, coming home in the 16th position. Jan Opperman competed in 1974 running 21st. Then while coming up through the field in the 1976 Indy, Opperman's tire became flat, thus taking him out and placing him 15th in the final running order.

---
The NFTRA (National Flat Track Racing Association) has added two racing dates to Nebraska. August 10th at Speed Bowl in Red Cloud, NE. August 11th at Cam Speedway in Hastings, NE.

---
DeWayne Louis "Tiny" Lund was born in the small southwest town of Harlan, IA. From 1955 to 1975, Tiny Lund competed in 293 races with Nascar. He had a total of 3 wins, 49 top 5's, 103 top 10's and won 6 pole positions. Of his 3 wins the biggest had to be in 1963 when he won the Daytona 500 while driving the Woods Brothers Ford. He wouldn't have been in the race except for a freak accident that occurred to his friend Marvin Panch. Panch was involved in a qualifying accident and his car caught fire. Lund got to the car first and pulled Panch out, thus saving his life and earning the Carnegie Medal of Honor for heroism. Since Panch was burned and could not drive, he convinced the Woods Brothers to let Tiny Drive his Ford in the 500. Tiny won the race at an average speed of 151.556 M.P.H. on a single set of tires.

---
May 31st, Sprint car driver Ken Lange of Lincoln, pulled off a top ten finish at this year's Goodyear Masters Classic, held annually at Knoxville Raceway. The event in it's tenth year is solely for drivers who are 50 years of age or older. Lange crossed the checkers in the tenth position. Mike Peters of Wichita, KS was this year's winner.

---
The number 3 is a lucky number when it comes to the Indianapolis 500. Winning Indy car numbers.

3 - 10 wins
1 - 7 wins
2 - 7 wins
5 - 6 wins
14 - 6 wins

---
During the recent UDTRA vs. NCRA Late Model Shootout at Eagle Raceway, Randy Korte set a new lap time record of 14.195. Breaking the previous mark of 14.456 set by Ray Guss Jr. in 1991.

---
You might be a redneck if…..

If you can remember every Nascar driver and their car number, but can't remember your wife's birthday, kids birthday or wedding anniversary.

---
Don Droud Jr. had an impressive showing at the 1st Annual Pepsi/Mountain Dew Midget Championship at the famed Knoxville Raceway. The event was sanctioned by Badger, MARA and NAMARS Midget Series. Droud competing in only his second midget show of his career finished an incredible 3rd, after starting the race in the 16th position. (Mike Hess took home the victory.)

---
Some of the incredible and remarkable awards and accomplishments of Late Model driver Joe Kosiski's 25 years of racing:

1986 Nascar Winston Racing Series National Champion
1986-1992 Nascar Central Region Champion
1999 & 2000 Nascar Midwest Region Champion
5-time Nascar Busch/O'Reilly All Star Series Champion
16-time Consecutive Midwest Regional Top 10's
9-time Sunset Speedway Champion
Over 400 Career wins.

---
The NSCA schedule has taken a beating in recent weeks, after rain forced the postponement of the June 7th race at South Dakota's Park Jefferson Speedway. The announcement comes that US-30 Speedway and Butler County Speedway in Rising City have dropped their NSCA show dates for the 2002 season.

---
The Annual "Evening with the NSCA" held at Russ's Market on 66th and "O" Street will be on July 18th.

---
Possibly a Nebraska Racing History First… Brandy Prauner of Norfolk, NE who competes weekly in the Street Stock division at Riviera Raceway recently got the chance to go head to head against dear old dad (Jerry Prauner). When a fellow competitor needed a fill in driver, Jerry was there to take his seat, thus setting up what may be the first father and daughter, going head to head against one another in a race in Nebraska. No she didn't beat him, but Jerry's 20 years of racing experience may have had something to do with him reaching the checkers first.

---
In 1951 Nascar started an amazing 82 cars at the event held at the Darlington Raceway.

---
How do you prefer your sprintcar racing, winged or Non-winged?

---
What ever happened to Dallas Parde?

---
Well, Dallas is doing well these days, residing in Lincoln and employed at John Henry's Plumbing. Dallas has nothing to do with racing anymore. As he says "it is like an alcoholic trying to stay away from the bar." Dallas's son Bill has kept the racing tradition going, as he is the crew chief for James Griffith, the 2000 Beatrice Speedway IMCA Hobby Stock Champion and 2001 runner up. Bill Says his dad still has great racing knowledge and plenty of speed secrets to pass along.

---
What ever happened to Kevin Wolf?

---
My deepest and heartfelt thought's and prayers go out to all the Bellino family and friends. GODSPEED NICK BELLINO

---
Until next time, see you where the dirt flies!

Please email questions or comments to wherethedirtflies@msn.com.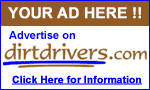 View Advertiser Index
Like to Write?
dirtdrivers.com is always looking for energetic people to write articles about local racing. Email us if you would like to join our team.