View Advertiser Index


October 2000

I'm not that excited to see the start of Husker football season, Don't get me wrong, I'm as big of fan of the "Big Red" as anyone else, but the sound of cracking pads, and footballs fumbling on the ground mean only one thing. The end of race season is just around the corner.

---
Ernest Hemingway once stated "Auto Racing, Bullfighting and Mountain climbing are the only real sports... all the others are just games.

---
At this years Knoxville Nationals, the winner of the 50/50 ticket drawing walked away with over $13,000.

---
The very first race at the Nebraska State Fair was in 1915, with an estimated attendance of 30,000 people

---
It's almost inevitable that the IMCA Modified A-feature ends at the State Championship with somebody claiming a motor. This year Shawn Vanlaningham of Beatrice, NE claimed the motor of third place finisher, David Thome.

---
Eddie Rickenbacker, many American's know him better as the famous pilot, who shot down 26 German planes in World War I, but Rickenbacker also was a racer and made his first appearance in Des Moines, IA during the 1914 State Fair. Many racers are superstitious to a degree, but Rickenbacker's were among the most unusual. He had a lucky cat that rode in a box inside his race car. Can anyone imagine the humane society allowing that to happen today?! The cat ran away before a race in Sioux City, leaving Rickenbacker in the lurch. Luckily, he remembered his mother's suggestion to tie a bat's heart to his middle finger with a red thread. He won the race!

---
The five top finishing drivers at this years Nebraska Cup represented five different states, NE, KS, SD, IA and MO.

---
The 2001 season will see the wins in the Limited Late Model Division, get a lot tougher to obtain. John Kinney Jr. is coming out of retirement.

---
Howard Bebout and Dale Hoyle, both of Nebraska City, have opened a new race track in Nebraska City a 1/6 mile long track. The name of the track; Nebraska City Go-Kart Raceway.

---
Modified drivers came all the way from Milpitas, CA , as forty modified drivers came to compete in the fourth annual Lightning Special at Thunder Lake Speedway, near Rising City, NE on September 1st. Heat winners were Dave Trauernicht, Chad Smith, Jerry Warner and Tom Svoboda. Dave Trauernicht managed to pass Sean Burklund for the lead on lap number eight and never looking back on his way to the checkered flag in the A-main. Trauernicht received a $1,000 check, Sponsored by Budweiser of Lincoln and a new recliner, courtesy of Ernies of Ceresco.

---
Past Champions of the Lawrence Ideus Memorial:

1990 - Ray Lipsey
1991 - Ray Lipsey
1992 - Rodney Droud
1993 - John Gerloff
1994 - Danny Young
1995 - John Gerloff
1996 - Bruce Divis
1997 - Don Droud Jr.
1998 - Bruce Divis
1999 - Ray Lee Goodwin Jr.

---
At this years Boone Nationals there were a record number of modified's taking to the track on opening night (393). That is 58 more than the record established last year. Coming out on top at weeks end was Kevin Stoa from Austin, MN. (Nebraskan's making the big show: James Kleinheskel, Ronnie Wallace and Johnny Saathoff.

---
Somewhere back in mid April, Jason Friesen figured he had a genuine shot at being the IMCA Late Model National champion this season. Friesen, from Sutton, NE, earned his first National title on the strength of 14 feature wins. He also repeated as top finisher in the Friesen traveling challenge series for Late Models in Nebraska.

---
In 1984 the 1st Modified Sprint Nationals were held with Lonnie Jensen taking home the crown. Lonnie had a lot of help. However, because of Lonnie's religious conviction, he couldn't race the opening night at Eagle Raceway with the points staying with the car, not the driver, Joe Saldana was enlisted to help and came through with a 4th place finish in the opener, which was won by J.J. Riggins. Ray Lipsey and Dean Chadd won the other races at Knoxville and Midwest Speedway. Jensen came in with a pair of 3rd place finishes to ice the title.

---
The 2000 NSCA points championship was won by Rick Ideus. The championship was Ideus's second consecutive NSCA crown.

---
In 1957 at Sunset Speedway Glenn Robey won the first two feature races and Bob Parker ended the season as the first ever points champion.

---
Beatrice Speedway's 2000 season track champions:

IMCA Modifieds - Mike Heidemann of Seneca, KS
Factory Stocks - Jason Logan of Diller, NE
Pro-Ams - Tracy Arntt of Endicott, NE
IMCA Hobby Stocks - James Griffith of Beatrice, NE

---
In 1973 Joe Wade won the 50 lap IMCA Stock Car race, held on the 1/2 mile dirt oval at Nebraska State Fair.

---
Don Droud Jr. scored a trifecta by taking home wins in three of Nebraska's most prestigious 360 sprint car races. In a matter of two weeks the Nebraska State Championship, Lawrence Idues Memorial and Eagle Raceway's Nebraska Cup.

---
This years Nebraska State championship winners:

August 28th
Grand National Late Models - Steve Kosiski
Street Stock - Doug Adamy

August 29th
Nascar O'Reilly All-Star series - Ray Guss Jr.
Central Nebraska Circle Track Association - Kyle Berck

August 30th
360 Sprints - Don Droud Jr.
Pro-Am - Bob Zoubek
The Good Old Time Racing Association (GOTRA) - Roger Ruwe

August 31st
IMCA Modifieds - Dave Trauernicht
Classic Modifieds - Jerry Rippen
IMCA Hobby Stocks - Derck Fralin

---
Joe Kosiski won more than just another Nascar Late Model race on September 3rd at Sunset Speedway. By winning the first half of the Doubleheader, Kosiski claimed his second consecutive Nascar Midwest Region Championship and the 4th of his career, and by winning his 10th race in 18 starts, at Sunset this year, Kosiski also won his 7th track title

---
Eagle Raceway 2000 Track Champions:

Late Models - Kyle Berck
Flyers - Brian Trout
Pro-Ams Scott Anderson
Thunder Truck - Myron Gammel
IMCA Modified - Mike Meyers
360 Sprintcars - Mike Boston

---
Bob Mays former Midwest Speedway photographer, is putting together a book covering 3 decades of Supermodified racing, at various Midwestern tracks.

---
Jeff Shepard took full advantage of the fast track, at Eagle Raceway on August 15th, as the World of Outlaws Support Series made there first ever visit to the worlds fastest 1/3 mile oval. By turning the fastest lap ever and breaking a mark that was thought, never to be broken, that Sammy Swindell set in 1992 of 11:264. Now the new mark of 11:256 along with an extra $100 bonus from Eagle Raceway, belongs to Jeff Shepard.

---
In 1953 at Lincoln County Raceway located at the North Platte fairgrounds was the site of the first and only Nascar Grand National race, ever held in the State of Nebraska.

---
Billy Moyer's homework paid off handsomely, as September 9th, he became the first driver to win Eldora Speedways famed World 100 five times.

---
USAC driver Kasey Kahne, in town visiting his girlfriend, who attends the University of Nebraska, Taking the seat in one of Phil Durst's mini sprints, at Greenwood Speedway and finishing 2nd in A-main action.

---
Until next time, see you where the dirt flies!

Please email questions or comments to wherethedirtflies@msn.com.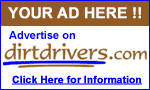 View Advertiser Index
Like to Write?
dirtdrivers.com is always looking for energetic people to write articles about local racing. Email us if you would like to join our team.