View Advertiser Index


May-June 2012

Getting The Dirt On... Tyler Andreasen


There is a saying in sports, that is ďThe joy of winning and the agony of defeat.Ē This is so true for Hobby Stock driver Tyler Andreasen. From the highest of highs to the lowest of lows Tyler has felt them all.

The dream of being a race car driver started when Tyler was 3 years old and his mom and dad would take him to Mid Continent Speedway in Doniphan. The Saturday night visits would keep him on the edge of his seat for hours on end. They would attend to watch all the classes but took special interest in the Broncos as his uncle Jeff Leep raced in the class.

Before Tyler started his racing career, he helped several drivers in the pits. Tyler has helped the likes of Hobby Stock drivers Kyle Bond and Cody Blessing, Modified driver Scott Blessing and Late Model driver Kim McDonald.

Tyler started his own racing career in 2009. Unlike most who start in the lower classes to get track time, Tyler started in his Hobby Stock. His first car was a Leonard Chassis Buick Regal. Tyler raced out of Kyle Bondís Team Zero race shop. Kyle was Tylerís mentor the first year, teaching him everything from dialing in a motor to setting it up for different and changing track conditions. Tyler says he would not be where he is right now without him. In 2009 the 13T was seen racing at Mid Nebraska Speedway and Dawson County Speedway. 2009 was a good learning season for Tyler. In 34 total shows he had 2 heat race wins, 1 B Feature win, 18 top 10ís and 4 top 5ís. He was also 7th in IMCA Rookie Regional Points and 8th in IMCA Rookie National Points.

Tylerís 2010 season can be summed in one word- disappointment. The beginning of the season had high hopes and expectations but early season bad luck let the wind out of the teams sails. A couple early season top 5ís at both Mid Nebraska and Dawson County had Tyler sitting 2nd in points at both tracks. One bad night at Mid Nebraska dashed the dream. Tyler and fellow Hobby Stock driver Ben Hobbs were racing out of corner four when contact between the two had the 13T airborne and into the grandstand fence. Tyler walked away but the car was in bad shape. It took Tyler and his team 3 weeks to get the car back together, and when the car hit the track again it looked like they would continue right where they left off. The first four races were all top 4ís at both tracks. Just when things were looking up the dark cloud reared its face again and there was 13T on its side out of turn 4 at Mid Nebraska. The team decided this time to call it a season and focus on their 2011 season. Of the 21 races that the 13T got in, they had 14 top 10ís, 6 top 5ís and 3 heat race wins..

2011 was the year Tyler has been looking for. Tyler had 11 heat race wins, 33 top 10ís and 21 top 5ís in 37 races. He finished 3rd in points at both Mid Nebraska Speedway and Dawson County Speedway and 4th in IMCA Nebraska State Points . He also got that elusive first A Feature win at Dawson County Speedway on July 17th, but it was far from a easy win. Tyler started 6th in the first of two A Features that night. Within the first 3 laps Tyler had wheeled the 13T to the front. A few laps after taking the lead Dillon Thompson and Tyler were battling for the top spot when Dillon got by him. Shortly after passing him a radiator hose blew on Dillonís ride, sending him to the pits and giving Tyler the lead once again. Lonnie Grueter was the next driver to challenge Tyler, racing side by side for 3 laps but the win would go to Tyler as Grueter broke an axle and had to retire to the infield for the rest of the feature. To show how fast luck can change, Tyler blew a transmission 2 laps into his heat race for the next set of features. But loading the car on the trailer was easier knowing that he had that A Feature trophy.

2011 also had a lot of awards and recognition for Tyler. Tyler was voted by the fans of Mid Nebraska Speedway as the ďFans Favorite DriverĒ, some big names before him have carried that title making it one of the biggest accomplishments of his short career. He was also named IMCAís National Most Improved Contingency Driver.

Tyler is hoping to bring consistency to his 2012 campaign. This year there will be a pair of 13Tís for fellow competitors to deal with. The first is a 2011 Red Rocket Chassis Chevy Malibu. This car will be his primary car for Mid Nebraska Speedway and Dawson County Speedway. The second is also a 2011 Red Rocket Chassis but is a Pontiac Grand Prix. This car will be driven at other tracks Tyler will race at this year. These tracks will include Beatrice Speedway, Albion, North Platte, Riviera Raceway and also The Boone Supernationals.

On a more personal level Tyler has some people and sponsors he wants to mention. First and foremost he wants to thank Kyle Bond for not only being his mentor but being an inspiration to him. His first year racing and also being around Kyle and soaking in all the info he could has brought Tyler to where he is today. Red Rocket Chassis for building the safest cars on the market today. The Greggís are always available for help and support whenever necessary. Brendan Eilts and all the guys at Eilts Racing and Fabrication. Last but not least the Leonard Family for all the help, support and vinyl work the last couple years.

Sponsors include Tagart Auto Supply, Leonard Graphics, Mid Nebraska Aggregate, Main street Appliance, EQ Heads/Engine Quest, Kims Auto Repair & Service, FX Suspension, Red Rocket Chassis, Graf Farms Eilts Racing and Fabrication, Hornady Manufacturing, Eakes Office Plus and Team 0 by Bond.

Pit Crew members include Matt Ford, Lil John, Shane and Jaci Graf, Ashley Dubas, Hayden Andreasen, Logan Belville and Nick and Julie Smaha.

Tyler is another one of the stateís fine young talents. Watch for him to be a IMCA National Champion in the next year or two. He has the drive and desire, and that is all you need. Make sure you make it to one of the tracks the 13T will be at this year, if you arrive a little late just look up front for the 13T cause that is where he will be.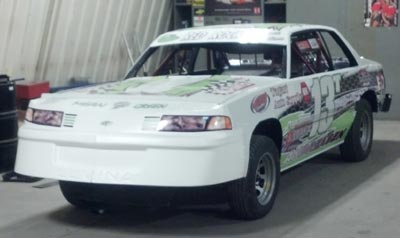 Tyler Andreasen's Hobby Stock Ready for Battle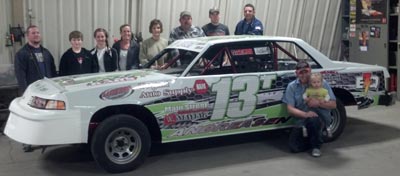 Team 13T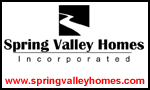 View Advertiser Index
Like to Write?
dirtdrivers.com is always looking for energetic people to write articles about local racing. Email us if you would like to join our team.