View Advertiser Index


January-February 2012

Getting The Dirt On... Bob Milander

When I think of respect and passion for dirt track racing, the first person that comes to mind is Bob Milander. Anyone that has raced against him or has watched him race knows this to be the truth.

Bob started his racing career in 1987 at Riviera Raceway in Norfolk, Ne. He started out in a 1969 Chevelle Hobby Stock. I asked him how his first race went and he chuckled and said "The first year and a half I struggled to finish races." I never did get the answer to my question but with that response I will take it he didn't finish well. In 1992 Bob finally got that first elusive win. The win came at his home track of Riviera Raceway. He said he just "had that feeling" that it was going to be a great night. That night he ran a good heat race which put him towards the front of the A Feature. A few laps into the feature Bob was out front and never looked back as the race went green to checkers. Bob continued his Hobby Stock career until 1994 when the class was dropped and he moved up to a Late Model.

Bob's first Late Model was a 1990 Rayburn. Little did he know at that time that his first Late Model would lead him to 3 Track Championships. He won his first track championship in 2000 at Mid Nebraska Speedway in Doniphan Nebraska. His second and third championships came in 2004 at Albion and another Mid Nebraska Speedway in 2005. His fourth championship slipped away in 2010 when he lost to Kevin Safranek by a mere 6 pts. Bob was poised to make a hard charge but the last points night was rained out. Bob states, "I have no problem finishing second to Kevin. Kevin is a great racer, drives clean and treats everyone with respect. There is nothing wrong with being runner up to someone with the class that Kevin has."

Bob has raced all over the state of Nebraska and a lot in South Dakota. In Nebraska, he has raced at Riviera Raceway, Hartington Speedway, Sunset Speedway, I-80 Speedway, Beatrice Speedway, Butler County Motorplex, Dawson County Speedway, Albion Speedway, Junction Motor Speedway and Mid Nebraska Speedway. In South Dakota, Bob has turned laps at Mitchell Speedway, Wagner Speedway and Winner Speedway.

Anyone that has raced knows that you can't do it without a strong support group, and Bob probably has one of the best. On any given night you can stop in the 77B pit and see his wife Brenda arm deep in the car turning wrenches or scraping mud or checking air pressure in the tires. His son Casey has taken on larger roles thru the years including 2 years ago getting behind the wheel of his own late model. Daughter Lachel also helps when she is able to attend. Do-it-yourself has a large meaning in the Milander family. Bob races the whole season on his own with no help from sponsors other than longtime supporter Rieflin Farms of Doniphan.

Bob sat out the 2011 race season due to both his kids Casey and Lachel being in college. Talking with Bob, his hopes for 2012 is to return to his home-track-away-from-home Mid Nebraska Speedway and get muddy. But as of right now, it is a wait and see. Regardless, you can count on two things when he gets back on the track. At the end of the race, he will be up front and he will have done it with respect. I sure wish everyone raced like that.

In closing this article Bob would like to send out a special thank you to one of his former competitors and best friend Curt "Oz" Zuhlke who tragically passed away along with his father in a traffic accident in October of 1999. Curt was one of the first ones who helped Bob when he moved up to a Late Model. Always willing to lend a help or give suggestions to Bob when needed, him and Curt grew on each other and became great friends. Bob to this day races in his memory. Great friends are hard to come by.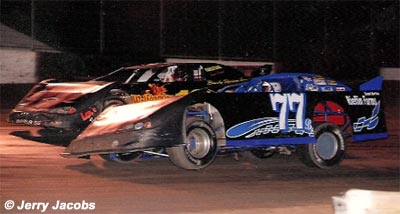 Bob Milander in Action at Mid-Nebraska Speedway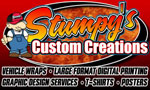 View Advertiser Index
Like to Write?
dirtdrivers.com is always looking for energetic people to write articles about local racing. Email us if you would like to join our team.