View Advertiser Index


March-April 2012

Getting The Dirt On... Tony Rost

"The Kid." "The Young Hotshoe." These are just a couple of nicknames that young Tony Rost has earned over the last few years. The driver of the the #69 Red Rocket Chassis B-Mod has worked hard to earn them, and carries them with pride.

The 19 year old is a freshman at Kansas State University studying kinesiology and nutrition. He will still be piloting his B-Mod at local tracks this spring and summer. He will be running the weekly schedule at Junction Motor Speedway but will travel to 8 or 9 other tracks this year. He will run the Harris Clash and also will make the trip to Las Vegas. He will run a few weekly shows at Wakeeney Kansas, Hays Kansas, Corning Iowa and will also race in the Iowa Speedweeks in July.

Tony started his racing career in the 3rd grade by racing go karts in Waverly Nebraska. He continued racing go karts until 6th grade and then took a year off before jumping in a 4 cylinder in 2007. He raced most of his shows at Eagle Raceway and also Columbus. In 2008 he was again in his 4 cylinder and broadened his racing to Columbus, Butler County Motorplex and Mid Nebraska Speedway. In 2009 Tony only ran Mid Nebraska Speedway gaining valuable seat and track time. Tony moved up to a Hobby Stock in 2010 and had a very good year. He finished 4th in track points, was Rookie of the Year and finished 11th in Nation Rookie of the Year for IMCA.

2011 saw Tony move into his B-Mod at Junction Motor Speedway and also I-80. Tony had the typical learning curve but still finished a very modest 12th in NASCAR National Points. He also won his first ever A-Feature at Corning Iowa. Making it even more impressive is the level of competition he beat. That night there was a lot of rainouts in the area and Corning was one of the only tracks to get the races in. In the pits that night was over 30 B-Mods, including eventual National Champion Jesse Sobbing. Tony started 11th in the A Feature and worked his way up to 3rd on the white flag lap. Tony, Jesse Sobbing and Jerod Weston were 3 wide going into turns 1 and 2. Tony stuck it to the bottom coming out of turn 2 and passed both of them and outran them to the checkered flag.

Behind every racer is his support group. Tonys family is his pit crew, photographer and crew chief. His mom video tapes and makes sure there is enough food and water for everyone to get through the night. Tonys dad works on the car while Tony is at school during the week and also makes race day changes. A couple of Tonys friends also help out when possible. Larry Barth and Josh Mooney attend as many races as they can and do whatever is asked of them. Josh would like also welcome Mallet Meyer to the 2012 pit crew.

Tony would like to take this time to thank the guys that help keep his car running during the season. Wade Cross at FX Suspension, DonRich Machine of Exeter Nebraska and Extreme Motorsports of Beatrice Nebraska. There is one group of people that went above and beyond the call of duty for Tony this last year. The guys of Red Rocket Chassis were available 24/7 for any setup, chassis or suspension advice that was needed. They worked anytime necessary to make sure the #69 B-Mod was race ready. Justin, Andy and Tony are the "best of the best" in Tony's eyes.

Tony is one of the finest young talents racing on dirt today. Always willing to learn, take advice and impose it on the track make him someone to watch for many years to come. If you get the chance to see him at a track near you, I would highly recommend it. You wont be disappointed.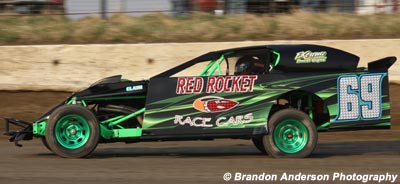 Tony Rost in Early 2011 at I-80 Speedway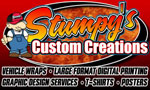 View Advertiser Index
Like to Write?
dirtdrivers.com is always looking for energetic people to write articles about local racing. Email us if you would like to join our team.