View Advertiser Index
---
Subject: Highlights from Night 1 of Speedway Motors Cornhusker Classic 10/9/20

Posted by
Message
Ant9000

I-80 Speedway Rep
Posted on 10/10/2020 2:42:49 AM

Double Heats and Two Features kick off Cornhusker Classic Weekend
By Anthony Ainslie
10/9/10

The final weekend of the 2020 season at I-80 Speedway opened up Friday night with the track's annual Speedway Motors Cornhusker Classic.
Six classes took to Greenwood, Nebraska for the speedway's two-day weekend to finish the abbreviated season. A gigantic field of 235 cars across all divisions came for Friday's qualifying night. Three of the classes, modifieds, sport mods and stock cars, had 50 entries or more. Those three classes, along with the Bragging Rights late models, had two rounds of heat races while hobby stocks and compacts had two complete shows on the weekend.
Friday's hobby stock feature saw a tight battle for the lead. Jerid Lund led a four-car battle for the lead with Roy Armstrong and Dillon Richards running side by side for second and 2020 I-80 Speedway track champion Luke Ramsey running in fourth.
Lund crossed the line first at the end of the 15-lap race but was later disqualified in post- race tech giving the win to Armstrong. Richards was credited with second while Luke Ramsey, John Watson and Tanner Dixon rounded out the top five.
In the compact feature, Dan Markham and Jacob Schwab took turns leading laps early in the 12-lap main event. The go-ahead move came with eight laps to go when Dustin Grout snuck by Schwab for the race lead.
Grout held off a late race charge from Drake Bohlmeyer to score the win. Bohlmeyer had to settle for second while Dan Markham, Byan Vannausdle and Jacob Schwab rounded out the top five.
The modifieds had two rounds of six heat races with the top 15 in passing and finishing points to determine the first 15 starting spots in Saturday's $5,000 to win main event.
Defending event champion Jordan Grabowski and defending stock car champion of the Classic, Jesse Sobbing, both won their heat races in both rounds. Kansas natives Dakota Sproul and Darron Fuqua, along with Nebraska's Mike Densberger and Mark Leiting, won the other round one heat races. Second round heat race wins also went to Jacob Hobscheidt, Chris Mills, Nick Roberts, and Ethan Braaksma.
The stock car division also had six heat races in both rounds. Grabowski did the same thing like he did in the modifieds as he swept the wins in his heat races. Clear Lake, Iowa driver Chanse Hollatz also won both of his heats. Other winners in round one included Scott Davis, Brad Derry, Dusty VanHorn, and John Kinser. Meanwhile, Dallon Murty, Jed Williams, Todd Reitzler, and Cole Nordquist, won heats in round two.
The sport mods also saw a pair of drivers win both heat races. Nebraska's Lance Borgman and Iowa's Dusty Masolini doubled up on heat race victories. Matt Andrews, Dane Martindale and Cade Richards took the other heat race wins in the first round while Kevin Zeitner, Cody Thompson and Devyn Peterson were victorious in round two.
The Bragging Rights late models had three heats per round on Friday night. Cory Dumpert was the only driver to win in both rounds. Andrew Kosiski and Robbie Jorgensen took the other round one heats while Jacob Hobscheidt and Jake Bridge took wins in round two.
At the end of both rounds of the heat races, Jesse Sobbing was the top point earner in the modifieds and will start on the pole for the main event. Jordan Grabowski was the top earner in the stock car class and will be on the pole position. Dusty Masolini will be on the pole for the sport mod feature, and Cory Dumpert was the top point earner for the Bragging Rights late models.



---
To post messages you must be logged in as a member of dirtdrivers.com.

View Copyright Infringement Contact Information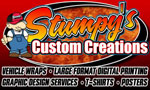 View Advertiser Index
Register
Become a registered user of dirtdrivers.com!

Register Now!
Dirt Driver Directory
Ever wondered what your favorite driver does for a living? When he or she started racing? What is behind the number on the car? You don't have to wonder anymore!

View Dirt Driver Directory
Classifieds
Looking for any new or used racing parts? Check out our online classified section to help find the parts you need!

View Classifieds
---
Muscle Cars