View Advertiser Index
---
Subject: Highlights from Driver Appreciation Night 5/17/19

Posted by
Message
Ant9000

I-80 Speedway Rep
Posted on 5/18/2019 2:52:55 AM

Schaller, Jenkins, Carlson, Andrews, Perkins, Olmstead, and Berghahn Jr. Take Driver Appreciation Night Top Honors
By Anthony Ainslie
5/17/19

Another big field of weekend warriors invaded I-80 Speedway Friday in front of a jam-packed grandstand for Driver Appreciation Night.
Many fans got free tickets to Friday's race at I-80 Speedway, and they got to watch 150 cars across seven classes compete with the NASCAR Whelen All-American Series during week three of weekly racing competition.
The super late model main event went caution free for all 25 laps. 2016 Track Champion Ben Schaller grabbed the lead on the opening lap and managed to keep lapped cars and enough distance between himself and Andrew Kosiski.
That was the deciding factor for the race as Schaller took the win, his first of 2019. Kosiski finished second while Bill Leighton Jr. took third. Josh Leonard made a last corner pass on Tad Pospisil for fourth while Pospisil rounded out the top five.
The Bragging Rights late model feature saw Sterling Perkins fend off a whole stampede of cars. Rob Kosiski, Brett Hopp, Jake Bridge, and defending track champion Jacob Brown all took their shots at taking the lead from Perkins.
The biggest incident of the race came on lap seven when a pileup in turn one involved seven cars blocked the corner entrance causing a red flag situation. All drivers were uninjured following the wreck.
In the closing laps, Perkins held off a late charge from Brett Hopp to score his first Bragging Rights series win of the 2019 season. Hopp took second, his career best finish at I-80 Speedway. Jake Bridge, Jacob Brown and Mike Morton Jr. rounded out the top five.
In Friday's modified feature, sport mod alumni Ryan Jenkins and Jacob Hobscheidt went back and forth exchanging the lead throughout the race.
A pair of caution slowed the race down. The first was for a tw- car spin in turn four, and the second was a three-car pileup in turn two. On the restart following the second caution, Jenkins held off Hobscheidt to score his second consecutive win at I-80.
Hobscheidt had to settle for second while Josh Most finished in third. Former track champions Mark Leiting and Travis Hatcher finished out the top five.
In the sport mod feature event, the initial start was called back twice for drivers starting to early. But after that, the race went without incident all the way to the end.
Matt Andrews and Devyn Peterson were the top two this night, as the two took turns leading laps. When it was all said and done, Andrews took home his first win of 2019. Peterson took second, his career best finish at I-80 Speedway. Gunnar Pike, Cole Wayman and Brian Osantowski rounded out the top five.
The stock car main event saw defending track champion Scott Carlson return to victory after a dominant performance. Carlson, who suffered a DNF the last time out because of motor problems, came back and led all 18 laps to secure the victory.
Shane Stutzman had a strong second place run while Eric Rempel, Tim Drake, and Lil Larry Robinson made up the top five.
The hobby stock feature was a tight race from start to finish as Zach Olmstead, Kevin Bruck, Luke Ramsey, Tom Myers and more were all battling up front for the win.
The biggest incident of the race came with five laps to go after a big hit between Zach Hemmingsen and Brandon Wergin in turn three knocked both drivers out of the race. Nick Bruegman was also collected but would continue on to finish 12th.
The win was decided between Olmstead and Ramsey. The two were neck and neck as the laps wound down, and when the dust settled, Olmstead outran everyone for the win. Ramsey was second while Kevin Bruck finished third. Tom Myers and Cheyenne Purchase rounded out the top five.
The compact feature was also a tight race that came down to the wire. Early on, Scott Brown was in command for the first three circuits before past I-80 Speedway track champion Denny Berghahn Jr. took over.
From that point, Berghahn had to hold off two hard-charging Iowa drivers in Dustin Grout and Bobby Key. Grout gave Berghahn a big run for the money on the final lap, but Berghahn held off Grout for the win. Grout and Key took second and third while Scott Brown and defending track champion Steffen Oaks made up the top five.


---
To post messages you must be logged in as a member of dirtdrivers.com.

View Copyright Infringement Contact Information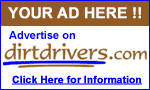 View Advertiser Index
Register
Become a registered user of dirtdrivers.com!

Register Now!
Dirt Driver Directory
Ever wondered what your favorite driver does for a living? When he or she started racing? What is behind the number on the car? You don't have to wonder anymore!

View Dirt Driver Directory
Classifieds
Looking for any new or used racing parts? Check out our online classified section to help find the parts you need!

View Classifieds