View Advertiser Index
---
Subject: trailer races

Posted by
Message
brentschlake
Posted on 7/23/2012 6:46:47 PM

Wow, just noticed its 12 bucks to get in instead of the 10 for every other night! We pack the house and we don't even get tow money or a pit pass!!

dirttracker96
Posted on 7/24/2012 6:43:26 AM

Funny how that works out.

Semidriver65
Posted on 7/24/2012 10:37:20 AM

12 bucks to sit & watch trailers crash for a hour, if that. sounds pricy to me. is that all they are having that night ?

dirttracker96
Posted on 7/27/2012 11:07:55 AM

Not for sure what else they have planned. Years past they had the stock cars run and the outlaw vintage lites. No stock cars this year.

---
To post messages you must be logged in as a member of dirtdrivers.com.

View Copyright Infringement Contact Information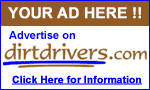 View Advertiser Index
Register
Become a registered user of dirtdrivers.com!

Register Now!
Dirt Driver Directory
Ever wondered what your favorite driver does for a living? When he or she started racing? What is behind the number on the car? You don't have to wonder anymore!

View Dirt Driver Directory
Classifieds
Looking for any new or used racing parts? Check out our online classified section to help find the parts you need!

View Classifieds