View Advertiser Index
---
Subject: Sunday June 23 USMTS + SLMR invade Park Jefferson Speedway

Posted by
Message
parkjeffspeedway

Park Jefferson Speedway Rep
Posted on 6/6/2019 9:05:24 AM

Park Jefferson, along with officials from the USMTS and SLMR are pleased to announce the Sunday Summer Shootout sponsored by Zeitner & Sons. Sunday, June 23rd the fans of racing in Sioux City will see the invasion of 2 of the top traveling series as the United States Modified Touring Series joins together with the Malvern Bank Super Late Model Series. And to sweeten the deal, fans will be able to buy advance tickets for only $19 for adults and just $5 for children 6-16. Advance tickets can only be purchased at https://market.myracepass.com/store/tickets/?i=1181457&store=10866. Advance ticket sales will end on Saturday June 22nd so make sure you take advantage today of this special offer.

The USMTS is making its fifth appearance at the track since reopening in 2014. Fans of the Siouxland have always shown strong support for only national touring modified series. Featuring top names like Rodney Sanders, The Reaper Ryan Gustin and Jake OíNeil, fans will get a chance to see many of the top modified pilots at Park Jefferson. One of the interesting names to watch this year will be Hunter Marriott. Marriott captured the 2018 Dirt Knights event at the Park Jefferson Speedway. Marriott has stepped up to running against the open motors this year and it will be interesting if he can put last yearís race notes to use as he was able to best Park Jefferson's top runners Noteboom and Abelson to steal the Dirt Knights victory. A host of local drivers will also be on hand to take on the USMTS.

Joining them will be the Malvern Bank Super Late Model Series. The SLMR brings the regionís top late model pilots as the makeup event from the rained out show on May 24th. Many of the popular names from years past like Kyle Berck, Bill Leighton, Corey Zeitner and Andrew & Brian Kosiski will be on hand and bringing their 700 horsepower machines to Park Jefferson Speedway. Park Jefferson has a long and rich history of late models and this will be the only chance in 2019 to catch the late models. All Zeitner & Sons tickets from May 24th will be honored for this event.

Joining them will be a non-sanctioned event for Sport Modifieds, Hobby Stocks and Sport Compacts. The Sport Modified and Hobby Stocks will be running for $400 to win and the Sport Compact for $150 to win. Any driver sweeping Saturday and Sunday will receive a $100 bonus.

Fans can take advantage of both nights of racing at Park Jefferson as the previous night a full IMCA Weekly Racing program will be run.

Hotel rooms can be booked at the Hampton Inn in North Sioux City by calling 605-232-9739 and asking for the $89 Park Jefferson Rate.

Gates open 1 hour early for the Sunday racing program. The pit gate will open at 3:30, the spectator gate at 4:00. Hot laps are slated for 5:15 and heat race action at 6:00. Fans should take advantage to purchase their advance tickets at https://market.myracepass.com/store/tickets/?i=1181457&store=10866. If fans choose not to purchase advance tickets, they can still be purchased at the door for $25 for adults, $20 for seniors and $12 for children 6-16 with under 6 free. For more information go to www.parkjeff.com.


---
To post messages you must be logged in as a member of dirtdrivers.com.

View Copyright Infringement Contact Information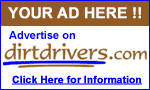 View Advertiser Index
Register
Become a registered user of dirtdrivers.com!

Register Now!
Dirt Driver Directory
Ever wondered what your favorite driver does for a living? When he or she started racing? What is behind the number on the car? You don't have to wonder anymore!

View Dirt Driver Directory
Classifieds
Looking for any new or used racing parts? Check out our online classified section to help find the parts you need!

View Classifieds